Digital Humiditistat
Model No: DH201
Features:
Compact Unit

DIN 92 X 46 Indicator
Duct or Wall Mounting Sensor

Fast Response Time
High Accuracy
Stable, Low Drift Performance
Latest Technology
Universal Power Supply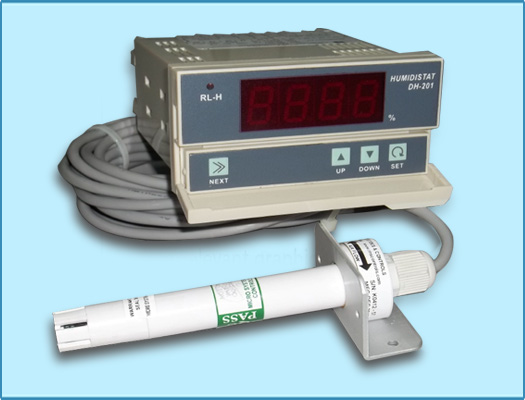 Overview
DH-201 is an advanced cost effective Digital Humidistat from Micro Systems & Controls which uses the latest generation sensor technology. DH-201 consists of an Indicator unit and a Sensor unit. The Indicator accepts direct signal from the Sensor unit. The Humidistat's terminals are marked for easy wiring. DH-201 has 3-wire SPDT switch which permits control of humidifying or dehumidifying equipment. Control logic is provided to energize the relay output as per the programmed set point. The Sensor unit responds to the full range from 0 – 100% relative humidity. Its response is essentially linear, with small hysteresis and negligible temperature dependence.
All programmed values are stored permanently in non-volatile memory.
Specifications

Order Coding:
DH201-FS-1MR-PU-C5