Data Acquisation Software
Model :  MicroDAS
Features:
Real-time process display
Graphical and numeric view
Real-time multichannel trending
Process history
Historical zoom facility
Alarm logging
Password protection
Simple operation
Low system requirement
Multidrop RS485 communication
Best price vs performance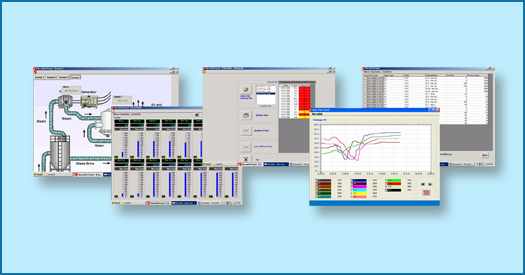 Overview
MicroDAS gives you 'at-a-glance' access to real time process parameters in numeric and graphical form. It is a pre-engineered software package that provides all benefits of on-line data logging and trending, without the need for complex system set-up and configuration normally associated with this type of packages. The software can interface with multiple scanners, indicators and data acquisition systems using multidrop RS485 communication. With the feature of historical data logging function the entire process history can be recorded for future analysis or validation. A 24 hours historical zoom feature is provided to view last 24 hours process history with 2 seconds resolution. It also provides alarm generation and logging capabilities. Micro DAS is incredibly easy to configure by people with average technical skills. If you can operate modern Windows-based packages like Microsoft Excel or Word, you should have no problems using a MicroDAS application.
Specifications:
Order Coding: